Bel the Giant (and other fantastical tales)
Wednesday 19th January 2022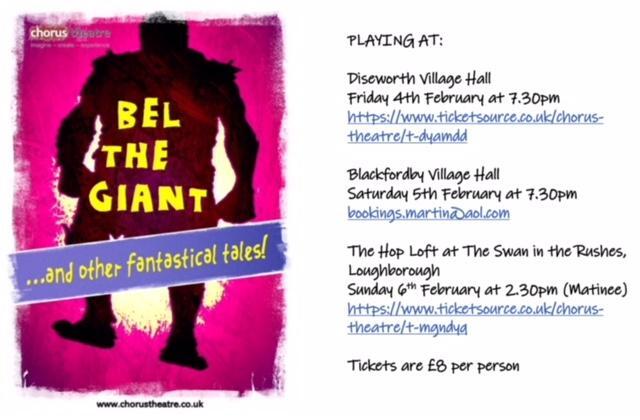 Chorus Theatre's latest production about the folk tales of Leicestershire including the story of Bel the Giant will be performed at venues across the county in February 2022.
The production will feature nine different stories based on famous (and not-so-famous) myths and legends including tales of giants, witches, kings, and monsters!
You can watch the production at the following venues –
Diseworth Village Hall – Friday 4th February 2022 7:30pm
Blackfordby Village Hall – Saturday 5th February 2022 7:30pm
The Hop Loft at The Swan in the Rushes Loughborough – Sunday 6th February 2022 2:30pm
Tickets are £8 per person at each venue.
To book tickets visit https://www.ticketsource.co.uk/chorus-theatre
The Local and Family History Centre at Loughborough Library will also have a display from Tuesday 18th January 2022 which tells the story of these fantastical tales.
For information on Loughborough Library including its open hours visit https://www.leicestershire.gov.uk/leisure-and-community/libraries/find-a-library/loughborough-library