Loughborough celebrates famous warhorse
Friday 5th July 2019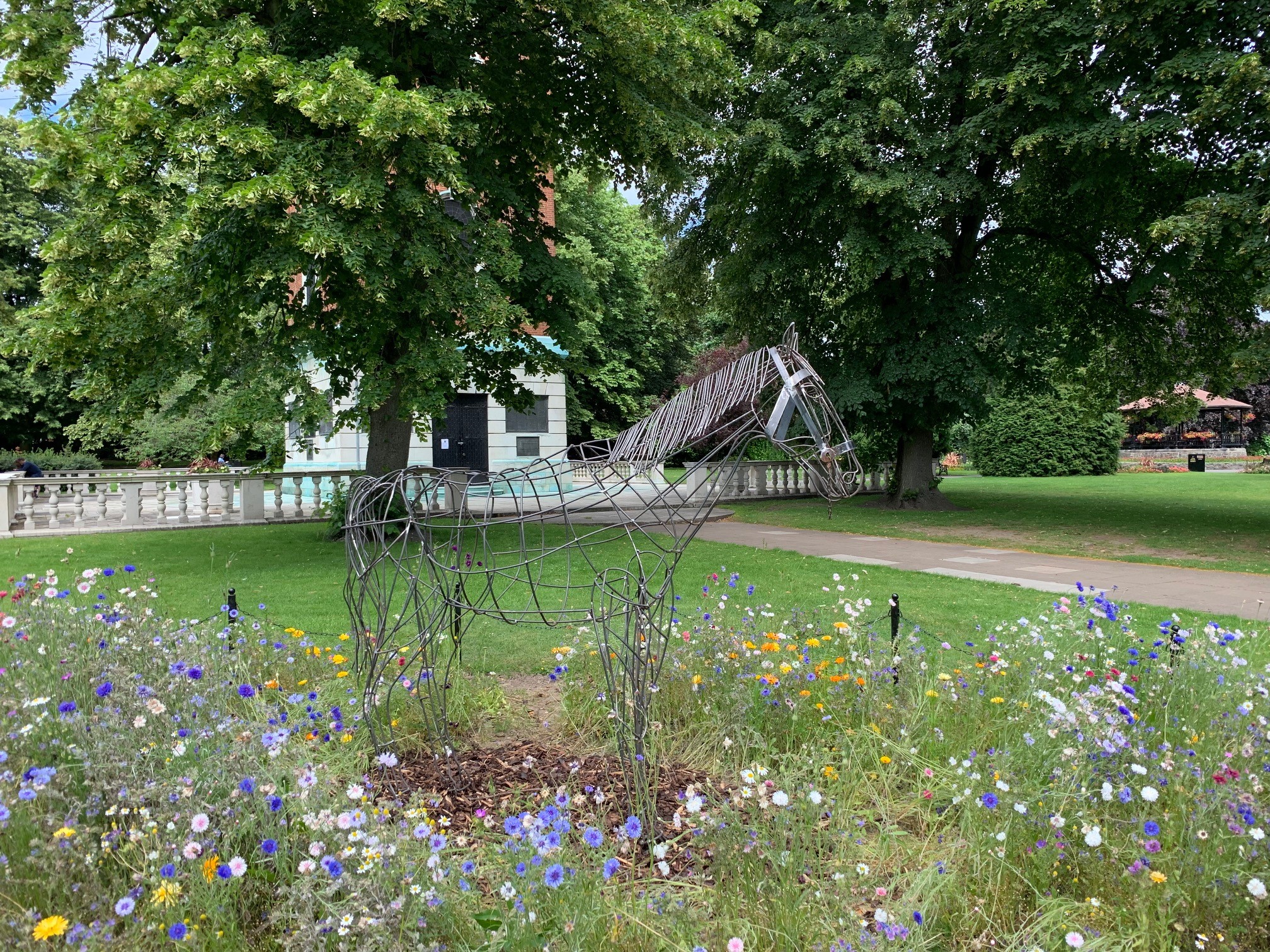 The Society was delighted to sponsor Charnwood Borough Council's Third Annual Armed Forces Day on Saturday 29th June.
This ever-popular event gave the local community the chance to honour and celebrate the men and women of the UK's Armed Forces past and present.
As well as soaking up the glorious sunshine, the public were treated to entertainment from the Corps of Drums, St Botolph's School Choir and Handbell group, Syston Brass Band and the Barrow upon Soar Ukulele Band.
The action-packed day culminated with the official unveiling of Loughborough's very own war horse Songster in Queen's Park.
One of the oldest and most decorated horses, Songster was a chestnut gelding with a blond mane, and an indomitable spirit who was lucky enough to survive the First World War and go on to become a local celebrity.
Songster was drafted into the Leicestershire Yeomanry in 1914 despite being of small stature and of an advanced age for a warhorse. His intelligence and bravery however made up for this, as it kept him and his rider, Trooper Bert Main from Loughborough, alive for the duration of the war.
Songster was brought back to England in 1919. He was traced by Burt Main to an auction, where he was bought by ex-squadron Sgt Major Harry Poole.
After the war, Songster had a happy and long life and was cared for by Sgt Major Harry Poole at his farm in Woodhouse Eaves. He became a popular figure in the community, famously drawing a local milk cart into Loughborough Market every week and stopping off to join Harry and his Yeomanry pals for a pint at the Old Boot Hotel.
Songster died peacefully in 1940 at the farm and was buried with full military honours and all the medal ribbons he'd earned during service. Today a plaque lies at the site bearing his name.
The Armature of Songster by artist Jenni Cairns and sponsored by The Loughborough was unveiled by 12-year-old Lewis Main, the great grandson of Bert Main. Lewis was joined by his father Andrew and grandfather – and Bert's son – Barry.
The unveiling was attended by Nicky Morgan MP for Loughborough, Town Mayor of Loughborough Cllr Brenda Seaton, Cllr Hilary Fryer, the Council's Armed Forces champion and volunteers from Charnwood Museum, The Carillon Tower Museum and Loughborough Library volunteers.
Those who attended also had the opportunity to hear a recital by Caroline Sharpe, Borough Carillonneur for Loughborough, and to learn more about the plans to extend the remit of the Carillon Tower Museum. Future open days and events will be announced in the lead-up to the Carillon's 100-year anniversary in 2023.
The life-size armature of Songster along with an accompanying information board will be displayed in Queens Park amongst a flower bed next to the entrance of the Carillon for at least ten years