Loughborough Santa Fun Run and Walk 2021
Tuesday 14th December 2021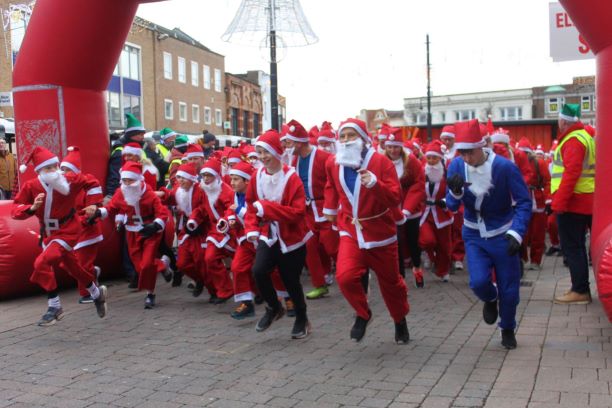 Loughborough was once again flooded with a sea of Santa's running, walking, or strolling through the town centre for charity.
After a virtual event in 2020, the annual Santa Fun Run and Walk took place once again on Sunday December 5th 2021.
Cheered on by Loughborough Town Hall's panto dame, thousands of participants donned a Santa costume and beard to run or walk 5-kilometers through the streets of Loughborough and Queens Park in aid of various charities.
This great seasonal event is hosted each year by the Loughborough Rotary Club and raises much needed funds for charities including Rainbows Hospice for Children and Young People, LOROS, Dementia UK and a host of local charities such as The Wellbeing Centre, Carpenters Arms, Glebe House, John Storer House and many more.
The Loughborough once again supported the festive fundraiser, providing the participants medals, and our Loughborough Branch was once again the main location from which the participants could collect their Santa costumes. The team at our Loughborough Branch did a marvellous job of again giving out Santa Suits to this year's participants.
With help from The Loughborough, other local organisations and volunteers the event was a resounding success, with the Santa's being able to achieve their fund-raising goals for their chosen charities.