Official opening of our Anstey Branch
Friday 22nd July 2022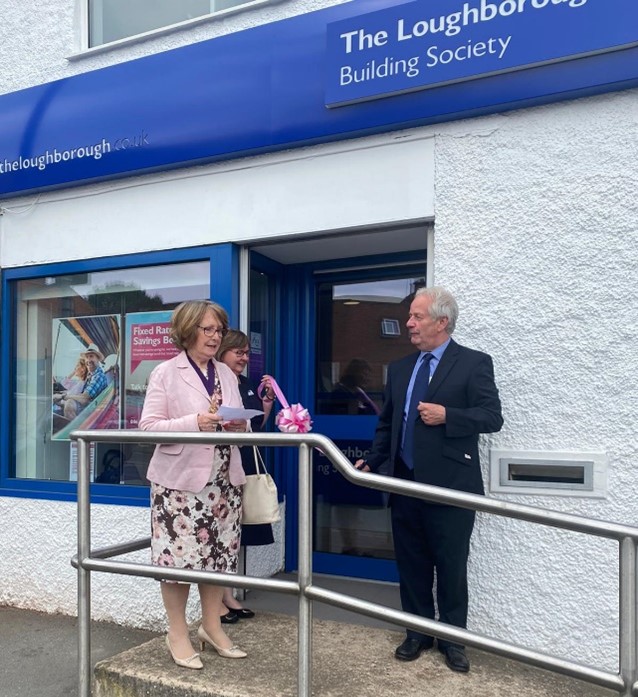 Charnwood Borough Council's Deputy Mayor, Margaret Smidowicz, officially opens Loughborough Building Society's new branch in Anstey.
After months of hard work, our new branch, located at The Nook in Anstey, north of Leicester, officially opened on Wednesday 20th July 2022.
The grand opening was also attended by, local Councillors Deborah Taylor, David Snartt and Paul Baines, together with a host of local businesses and individuals. Those attending enjoyed a guided tour of the new branch and delicious refreshments courtesy of the Nook Corner Café, which is situated just next door.
Senior Customer Service Adviser Katie, and the other members of the Anstey branch team, also handed out goody bags to those attending to celebrate the opening.
The highlight of the event was the official ribbon cutting, with Charnwood Borough Council's Deputy Mayor, Margaret Smidowicz, doing the honours. She also welcomed The Loughborough to the community and thanked the Society for staying true to the ideals of the small group of business men who, in 1867, made the decision to provide financial support to the people of Loughborough and District to buy their own homes and save for the future.
The Society's Head of Branches and Savings, Tracy Blake, said, "It was a lovely afternoon and I'm delighted with the local support we've received. People are extremely positive about us joining the Anstey community, especially the fact that they can visit us and speak to a friendly face".
Our grateful thanks go to all those who supported the opening event.
Katie and our Anstey team look forward to welcoming you to the new branch soon.
Visit our Anstey page for more information including contact details and opening hours.